Many times Exchange users want to share a personal calendar with coworkers without jumping through the hoops of requesting a new shared or resource mailbox. I'm going to tell you how to do that without setting delegates or giving away more information than you want. (These instructions are for Outlook 2016, but they should be pretty close for 2013 & 2010.)
1. Switch Outlook to "Folders" view.
Click on the ellipsis icon at the bottom of the left-hand navigation pane in Outlook and select Folders.

2. Create a new Calendar folder.
Right click on the mailbox name and select "New Folder".


Name the folder (in this case, I named it "Event Calendar"), specify "Calendar Items" for the folder contents, and select the existing Calendar folder for the location of the new folder. (Click OK.)

3. Share the new calendar folder with your team.
Right click on the new calendar folder (in this case, that's "Event Calendar"), select Share, and then Share Calendar.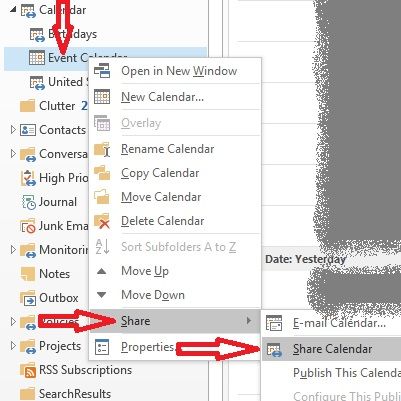 4. Set sharing level and send the sharing invitation.
In the new email message that Outlook opened, add the other people you want to share your calendar with to the "To" field. If you want them to be able to modify the calendar, check the "Recipient can add, edit, and delete…" box, add whatever text you want to the body of the message, and then click Send.

5. The recipients will need to follow the instructions in the sharing invitation to add the calendar to their Outlook clients. If they ever lose the calendar for some reason, you can send them a new sharing invitation.
Comments